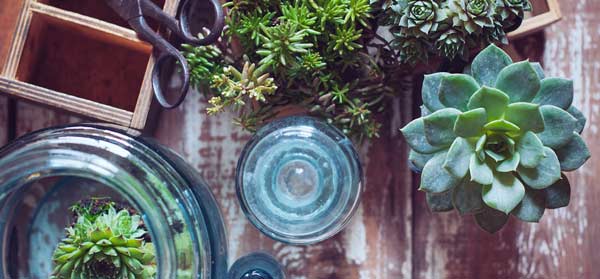 The beginning of a new year is a great time to start thinking about yard and garden updates. With big events such as the Texas Home & Garden Show, coming up February 17th-19th in Houston, anyone who is ready to plan a new garden or get inspired for landscaping, will want to attend. Before the show however, you may be intrigued to know what's hot when it comes to 2017 yard and garden ideas. Here's a feature from their blog on how to build a terrarium.
Garden Design Magazine recently published an insightful list of the top trends in landscaping, many of which fit in easily with our Texas climate and lifestyles. There is an overall trend towards the nostalgic. It seems the minimalist, clean lines of many modern styles are no longer in greater demand. Many are looking for a more traditional, classic look, with comfort and convenience in mind.
With many areas of the country, including ours, experiencing drought conditions over the last several years, more and more landscape designers are picking up the banner of native gardening. For us this means working with plants which are drought resistant. Doing so helps keep yards and gardens healthy and more sustainable, while conserving water and energy.
New landscape designs are also more focused on incorporating natural elements to garden features, such as rope garden swings. Gone are sleek chrome benches, in are curved wooden chairs and free-form decks, following the lay of the land. People are becoming more interested in a natural, tactile experience when spending time in their yards. This includes building in fun and comfortable outdoor spaces, much like our outdoor living rooms, but with space for a game of bocce ball or croquet too.
In keeping with better conservation practices, many landscape designs are incorporating high tech advances for better sustainability. Smart apps can now connect your phone to your irrigation system, and track the weather to know if watering is needed or not. This also brings a new level of convenience to yard and garden care, which many are pleased with. With our busy lifestyles, low-maintenance landscape designs are growing in number. As we move away from keeping a big, lush, green lawn, to more climate appropriate landscaping, mixed grasses and low shrubs are helping to reinvent the lawn and keep yard work to a minimum.
Creating gardens of a variety of grasses and shrubs along with flowering plants is also a great way to achieve a more "lived in" look, which top designers say more people are requesting. There is an approach of mixing the old and the new together, to provide interesting conversation centers within a home's outdoor space. Garden vignettes are a great way to feature native plants, or specialized favorites. One growing trend is to plant herbs and plants which can be used as natural dyes. The home crafter has been turning back to more natural materials and do-it-your-self processes. If you're a gardener, a natural dye garden may be just the new idea to try.
Now is a great time to plan your yard and garden updates. If you are planning to sell your home this year, it's also a great time to enhance your homes' curb appeal. Get inspired by this year's yard and garden ideas, and help attract more potential buyers to your property. REALTY TEXAS LCA, Inc. is here to help you with all your real estate needs! To ensure I can effectively put my skills and experience to work for you, I am SRES® & ABR® Certified. Call me, Laura Austin, at (281) 789-2911 or (936) 321-2977, or email me at Laura@RealtyTx.net. You can also visit me at my website for available listings and additional information.