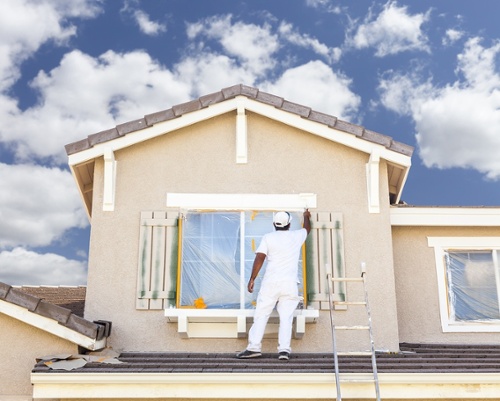 With only a few weeks left in the Summer, it's a good time to think about tackling some home improvement projects before Fall sets in. Whether you are prepping your house for sale in the Fall Conroe Market, or just looking to enjoy your home more for the years to come, here are some project ideas to get you started.
Evaluate Outdoor Living
Summer is a great time to evaluate your outdoor lifestyle. Ask yourself, how do I use my space? Take some time in the next few weeks to reflect on what you enjoyed this year, and what you may want to change for the future. According to houselogic.com, it's also a great time to look at strategic spots for shade trees to plant in the early fall.
You may also want to start planning projects for next year. There's nothing like enjoying the outdoors with family and friends from the comfort of your backyard. If you will be staying in your home for a while, why not consider adding a fire pit or that pool you've always wanted? See last week's post about how to find a good contractor in Conroe.
Freshen Up Your Landscape
Giving your lawn and garden some TLC is always a good idea. It gives your home fantastic curb appeal, and can be a real draw for potential buyers. Adding low maintenance, colorful plants also enriches your experience of your property. Protect your plants and shrubs with a layer of mulch to keep roots insulated from changing temperatures. Edge your garden beds for definition and bring in a pop of color with some low-maintenance perennials. Here is a great list of perennials that are well suited to the Texas climate and Conroe area.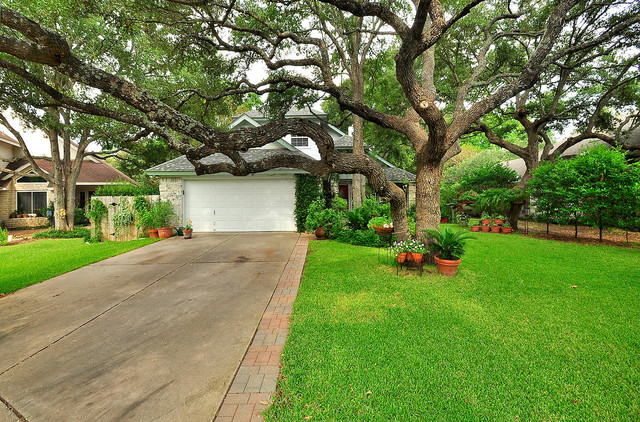 image via houzz.com
Protect Outdoor Surfaces
It is a good idea to seal, oil or paint your deck or porch. This could be the perfect do-it-yourself project for the weekend warrior or a chance to sit back and leave it to the professionals. Also consider paving your driveway. Adhesion to surfaces is generally more successful in warmer temperatures. Many contractors recommend summer for work on property walkways as well.
Painting the exterior of your home is another great way to update your property and add curb appeal.
Tackle Larger Construction Projects
Any large scale jobs are best done in the summer time to minimize disturbance to your family during cooler weather and busy Fall schedules. Even in Conroe's milder winters, projects done inside the home like a kitchen remodel, can be more cumbersome in winter. There's also no better time to replace your windows than in the summer before cooler temperatures set in. You'll save energy costs in the coming months and you may even improve your view of the outdoors.
Enclose your porch
This could be a good way to extend the use of this space year round. According to this article on houselogic.com, outdoor patios and porches are becoming more popular than ever with homeowners because they boost resale appeal, and add to your living space for an affordable $8 to $35 per square foot versus the $150+ per square ft. price of an addition.
Clean your gutters
Last, but certainly not least, it is important to clean your gutters to best protect your home and property from coming rains. Take this opportunity to inspect for corrosion and consider replacement.
If you are ready to sell, or buy a home, REALTY TEXAS LCA, Inc. is here to help you with all of your real estate needs! As a CHMS (Certified Home Marketing Specialist), Laura can help you stage your home for maximum appeal.

If you are looking to buy or sell, call me, Laura Austin, at (281) 789-2911 or (936) 321-2977, or email me at Laura@RealtyTx.net. You can also visit me at my website for available listings and additional information.
Tags: Homes, buying, selling, home improvement, home remodel, real estate, realtor, Laura Austin, Texas Realty, Conroe